Manual colony counter
Compatible with all types of media
White LED lighting with adjustable intensity
3 year gurarantee
Save time by exporting via USB, LIMS, ExcelTM
Scan 100 allows accurate colony counting on all types of media.

The integrated USB port allows results to be exported for traceability.
Counting on Petri dishes (Ø 55 to 150 mm),PetriFilmTM, MC-media PadsTM, Compact DryTM filtration membranes.
White LED lighting with adjustable intensity
Data export via USB, LIMS, ExcelTM
Applications
The Scan 100 colony counter is used in the food, environmental, pharmaceutical, cosmetics, animal health and public institutes industries.
Compatible with all types of media
Scan 100 est un compteur manuel qui convient pour tous types de supports : boites de Petri (Ø 55, 65, 90 et 150 mm),PetriFilmTM, MC-Media PadsTM, membranes de filtration… Le comptage se fait par simple pression tactile, il est ensuite enregistré. Vous pouvez compter de 0 à 1998 UFC.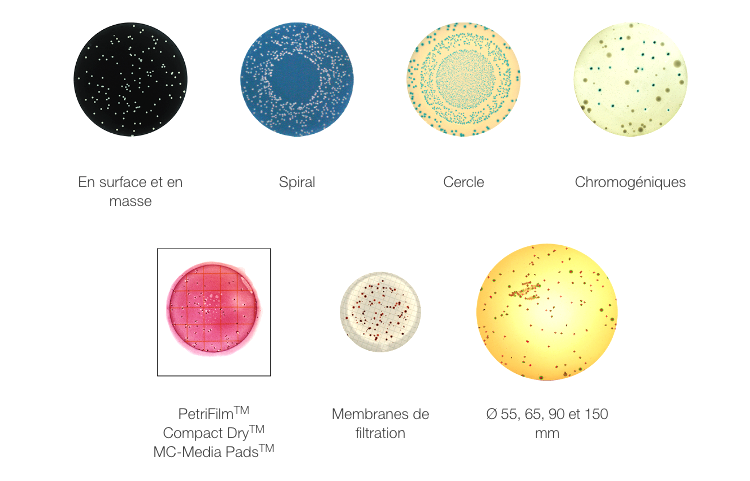 Warranty
Scan automatic colony counters have 3-YEAR warranty (parts and labour) just by sending the warranty card back.
Traceability
Save time by exporting via USB, LIMS, ExcelTM the data recorded during the count. This will prevent errors in rewriting results.

Scan 100
Référence
435 000
Type de compteur de colonies
Manuel
Technologie d'éclairage
LED blanches / Dark Field
Système d'éclairage
Lumière LED avec Intensité ajustable
Type de comptage
Manuel (0-1998 UFC)
Zone de comptage
Surface tactile à sensibilité réglable
Signal sonore de comptage
4 niveaux de volume
Dénombrement sur boites de Petri
Ø 55, Ø 65, Ø 90 et Ø 150 mm
Dénombrement sur PetriFilmTM
Manuel
Dénombrement sur MC-Media PadsTM
Manuel
Dénombrement sur Compact DryTM
Manuel
Dénombrement sur membranes de filtration
Manuel
Compteur de colonies

N

Dénombrement des ensemencements en masse, en surface, Spiral et cercle

N

Dénombrement sur géloses chromogènes

N

Corps acier inox

N

Export des données
Via USB, LIMS, ExcelTM
Dimensions (w x d x h)
25 x 33 x 17,5 cm
Poids
4,6 kg
Emballage (l x p x h)
50 x 40 x 40 cm
Poids brut
7,2 kg
Tension - Fréquence
100-240 V~ 50-60 Hz
Puissance
5 W
Indice de protection
(100-240V) : 20
Garantie
3 ans
En conformité avec
ISO 7218 et FDA BAM (Bacteriological Analytical Manual)