Food Thermometer
This waterproof stainless steel thermometer can easily check internal temperatures
Temperature Range: –50 to 280°C (–58 to 536°F)
Temperature Resolution: 0.1° from –20 to 200°C; or 1°C elsewhere
Included Probe: Stainless-steel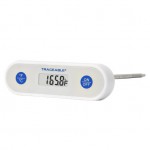 ---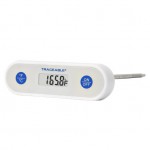 Model : 4370
±1°C between –20 to 100°C

---
Stainless-steel probe is ideal for use in soil, brewing, food processing, refrigeration, and pharmaceutical applications.
Splash-proof construction allows it to be used in labs, plants, wash-down areas, and the field. Manufactured to be drop-proof from 5 feet. Eliminates the dangers inherent in breakable glass and toxic mercury thermometers. Wide range covers 99 percent of routine temperature measurements: –58 to 536°F and –50 to 280°C. Resolution is 0.1° from –20 to 200° (1° outside this range). Accuracy is ±1°C between –20 to 100°C. Reading is updated every second.
TRACEABLE® CERTIFICATE
Multi-point calibration on an individually-numbered Traceable® Certificate which assures accuracy from our ISO/IEC 17025:2005 (1750.01) calibration laboratory accredited by A2LA. It indicates traceability of measurements to the SI units through NIST or other recognized national measurement institutes (NMI) that are signatories to the CIPM Mutual Recognition Agreement.
| | |
| --- | --- |
| Temperature Range | –50 to 280°C (–58 to 536°F) |
| Temperature Resolution | 0.1° from –20 to 200°C; or 1°C elsewhere |
| Included Probe | Stainless-steel |
| Probe Dimensions | 0.19-inch diameter x 8 inches |
| Dimensions | 9-1/2"x3-1/2"x1" |