Lollipop Thermometer
Shockproof and Water-Resistant Thermometer
Temperature Range: –58 to 572°F and –50 to 300°C
Resolution is 0.1° from –20 to 200°; 1° outside this range
Accuracy is ±1°C (4371) and ±4°C (4378) between 0 and 100°C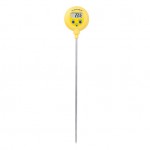 Model : 4371
Résolution : 0.1°

Précision : ±1°C
---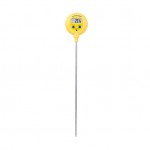 Model : 4378
Résolution : 0.1°

Précision : ±0.4°C
---
New heads-up Lollipop Traceable Water-Resistant/Shockproof Thermometer replaces hazardous mercury units and is ideal for wet labs, wash-down areas, outdoors and virtually all field applications.
Shockproof in drop tests up to 5 feet. Stainless-steel probe is resistant to most laboratory chemicals. Wide range covers 99 percent of the lab's routine temperature measurements. Solid-state construction eliminates dangers inherent in breakable glass and toxic mercury thermometers.
Features
Temperature Range: –58 to 572°F and –50 to 300°C
Resolution is 0.1° from –20 to 200°; 1° outside this range
Accuracy is ±1°C (4371) and ±4°C (4378) between 0 and 100°C
Bright 1/4-inch-high display is easy to view
°F/°C Switchable
Traceable Certificate
Multi-point calibration on an individually-numbered Traceable Certificate which assures accuracy from our ISO/IEC 17025:2005 (1750.01) calibration laboratory accredited by A2LA. It indicates traceability of measurements to the SI units through NIST or other recognized national measurement institutes (NMI) that are signatories to the CIPM Mutual Recognition Agreement.
Supplied with
Traceable Certificate, Stainless-steel probe, probe cover with pocket clip, and battery
| | |
| --- | --- |
| Meter Temperature Range | –58 to 572°F (–50 to 300°C) |
| Temperature Resolution | 0.1° from –20 to 200°C; or 1°C elsewhere |
| # of Probes | 1 |
| Probe Type | Stainless-steel |
| Probe Dimensions | 0.14"diameter, 8" length. |
| Temp MIN/MAX Memory | Y |
| LCD Digit Size | 1/4 in |
| Dimensions | Overall unit length is 10-1/4 inches, width is 1-3/4 inches, and depth is 1/2-inch. |
| Traceable | Y |
| Supplied With | Traceable® Certificate, Stainless-steel probe, probe cover with pocket clip, and battery |