Microscope pour l'évaluation du sperme
Live biological specimen analysis
Functions as standard brightfield microscope as well
Portable: Can operate with battery power
Perfect for veterinarians or fertility clinics, the i4 Semen Evaluation LabScope is the complete package for live specimen microscopy.
Motility analysis should be performed at 98.6 degrees Farenheit to keep sperm active, and the heated stage has a built-in digital temperature control unit which can be set for any temperature up to 110 degrees Farenheit. The heated stage will maintain accurate and stable temperatures within +/- 0.3 degrees during observation. This microscope looks and functions like a standard laboratory-grade microscope when in brightfield configuration. The Plan phase objectives and turret condenser allow flat-field, high-contrast viewing of live, unstained specimens, and easy magnification changes with the flip of the thumb.

Applications
Semen evaluaton - motility analysis
Live biological specimen analysis
Functions as standard brightfield microscope as well
Portable: Can operate with battery power
Complete System Features
i4 complete laboratory binocular microscope
10X/20 WF eyepieces with rubber eye guards
Built-in heated stage
X-Y mechanical stage for precise slide movements
Built-in digital temperature control unit
Infinity plan flat-field objectives
Phase 10x, Phase 20x, Phase 40x, Phase 100x
Turret condenser with Phase and Brightfield
Variable LED illumination
110v / 220v auto-switching AC power adapter CE, UL, cUL approved
Stage and microscope powered by single intergral 12v DC power supply
Optional trinocular head with camera connections
Heated Stage Specifications
Variable digital temp. control up to 110º F
Set temperature in 0.1 degree increments
Displays actual temperature in 0.1 degree increments
Accurate within 0.3º F
Reaches temperature within 5-10 minutes
Includes
Blue-green-yellow filters, immersion oil, dust cover, manual, and warranty card
| | |
| --- | --- |
| Model # | Description |
| i4S-SEB4-iPL3 | Complete Semen Evaluation Binocular Labscope |
| i4S-SET4-iPL3 | Complete Semen Evaluation Trinocular Labscope |
Microscope Dimensions
Height: 16 1/2" (420 mm)
Length: 10 5/8" (270 mm)
Width: 7 7/8" (200 mm)
Weight: 16.5 lbs. (7.5 kg)
The i4 Semen Evaluation LabScope provides everything needed to perform motility analysis and to observe morpho-logical abnormalities to determine the viability of sperm. Sperm concentration can be performed with the optional Neubauer Hemacytometer (counting chamber) pictured below.
Motility
Motility analysis is the best indicator of semen quality and viability, and is highly correlated with fertility rates. Progressive motility is the percentage of sperm moving forward in a straight line under their own power, which is a visual estimate under the microscope. It is very important to keep the sperm sample warm, and evaluate as soon as possible after collection.
Connect the Digital Control Unit to the microscope stage
Set temperature to 98.6º F
Allow several minutes for the "actual" temperature of the stage to reach 98.6º F
Place blank slide and coverslip onto the side of the microscope stage to "pre heat"
Place a drop of diluent onto the slide, then add small amount of semen (enough for 10 cells per field)
Drop cover slip onto specimen, and examine 10 different fields under the 40x phase setting (400x magnification)
Count number of cells moving in each field (average of 10 fields) - determine percentage motile
Next count cells moving straight forward in each field (average of 10 fields) - determine percentage straight forward
Multiply the two percentages together to determine % Progressively
Motile 80% motile x 60% straight forward = 48% Progressively Motile
Morphology
Morphological abnormalities are an important factor in fertility as well. However, this procedure is not as critical as the motility analysis above, because many of the abnormal sperm will have already been excluded due to lack of motility. Morphology examinations are done with the phase contrast setting on the microscope, but the heated stage is not necessary because the sperm cells are not live.
Prepare the slide mount with formal-buffered saline and a small amount of semen, then drop a cover slip into place
Set the microscope to 100x phase (1,000x magnification)
Count 100 cells, and determine the percentage of abnormal sperm
Concentration
Sperm concentration is the number of sperm in a milliliter of semen. A hemacytometer, or counting chamber, is used to create a 1 x 1 x 0.1 mm cubic chamber for counting.
Prepare a 1:100 dilution, add a droplet to each of the hemacytometer grids, then drop the cover slip into place
Observe the grid initially under the 10x phase setting (100x magnification)
You will see 25 squares, each with 16 smaller squares inside
Switch to 40x phase (400x magnification), count the sperm heads in 5 of the 25 squares, and multiply by 5
Next, multiply the number of sperm above x 1,000,000 for the sperm count per ml.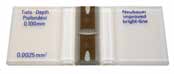 Neubauer Hemacytometer