DA6242-000
Vantage Vue Weather Station with WeatherLink Console
Vantage Vue Weather Station with WeatherLink Console
Local weather conditions can change over short distances. A local weather station provides an overview of the weather in your area, but this might not reflect the microclimate in your backyard. The Vantage Vue weather station is the perfect solution for anyone who wants real-time, hyper-local weather information. Vantage Vue weather stations have been providing vital data to homeowners, farmers, gardeners, educators, community leaders, outdoor recreation enthusiasts, researchers, businesses, and weather enthusiasts for many years.
Features
Accurate, reliable weather monitoring with real-time data updates every 2.5 seconds.
Self-contained, easy-to-install system includes sensor suite and console.
Industry-leading transmission range of 1,000'/300 m from the sensor suite to the console.
Sensor suite's rugged, weather-proof housing gives you years of reliable data.
You get inside and outside temperature and humidity, barometric pressure, wind speed and direction, rainfall, dewpoint, wind chill, forecast, moon phase, alarms, and more.
Access data anywhere, anytime, with WeatherLink Cloud.
Includes WeatherLink Console with the vibrant, HD color touchscreen.
Sensor suite is solar-powered with battery back-up; console is AC-powered with battery backup.
Vantage Vue
All-In-One, Self-Contained
The fully-integrated, corrosion-proof sensor suite is built to take all the weather your location can give — freezing winters, springtime thunderstorms, blistering summer sun, and brisk autumn winds.
Wireless - Frequency-hopping, spread-spectrum radio ensures data transmission up to 1,000 ft. (300 m) line-of-sight.
Solar-Powered - Energizes the station during the day. Onboard supercapacitor provides power at night. Lithium battery provides backup when needed.
Updates 10x faster than the competition
Industry-Leading Specifications
Self-emptying tipping spoon measures rain in 0.01" increments. Metric version measures in 0,2 mm increments.
0.01"
RAIN
Records wind speeds as low as 2 mph (3 km/h) and is wind tunnel-tested to 200 mph (322 km/h).
200 mph
WIND SPEED
Radiation shield provides excellent protection from solar radiation and other sources of radiated and reflected heat for accurate temperature and humidity readings.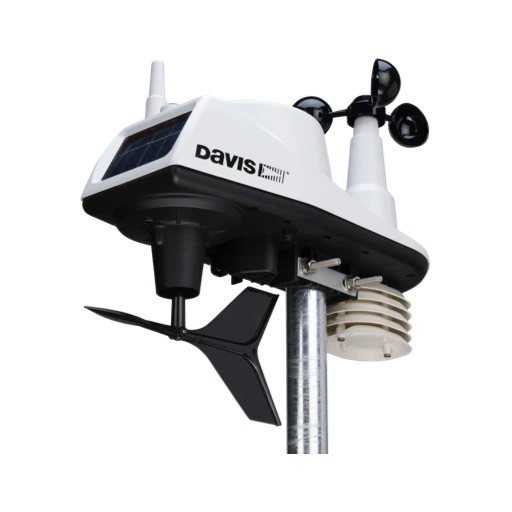 Corrosion Protected
Corrosion-resistant cover provides durability in extreme conditions. Electronics are potted or over-molded for added moisture shielding.
UV Protected
Engineered to withstand scorching sun. Where competitor products yellow and crack, our UV-resistant cover is rigorously tested to protect electronic components for years.
Built-In Bubble Level
Allows for easy of installation and better data collection.
The WeatherLink Console revolutionizes the way you access, analyze, and understand your hyperlocal weather data.