WeatherLink® Console
The Smart Way To View And Stream Live Weather Data
Get In Touch With The Big Screen
The WeatherLink Console revolutionizes the way you access, analyze, and understand your hyperlocal weather data.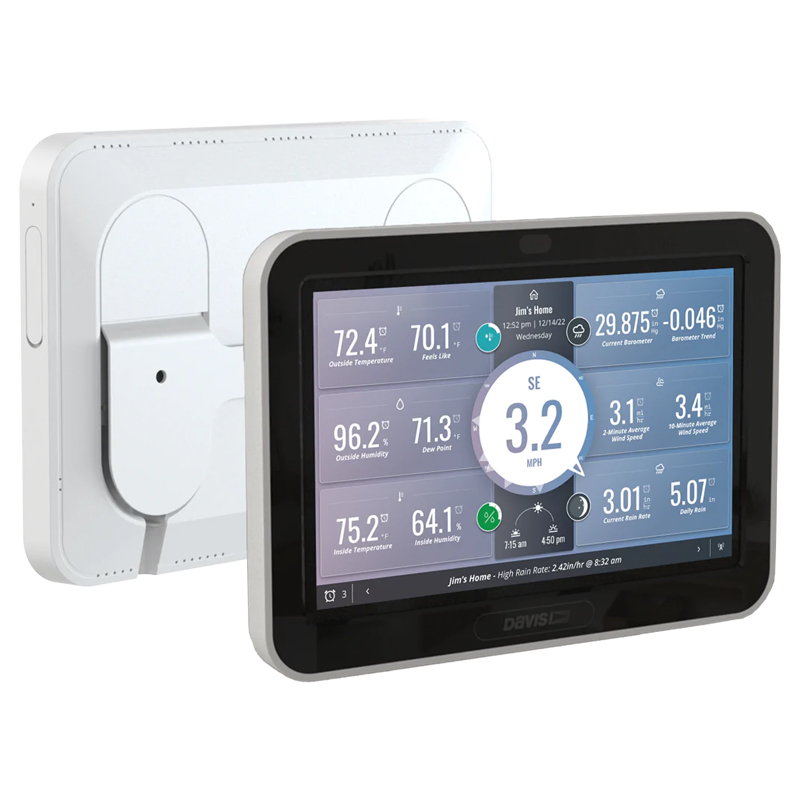 Brilliant Interactive Display
Use the vibrant HD touchscreen to easily navigate, view, and analyze your weather data on one intuitive device.
Touchscreen
TOUCHSCREEN DISPLAY
Personalized Real-time Data
Customize the dashboard to show up to 21 parameters – from temperature to wind to rain – and see the information that matters to you.
21 parameters
VIEW UP TO 21 PARAMETERS ON THE DASHBOARD
View And Analyze Historical Insights
Use the full database of historical records stored right on the console to create custom graphs and analyze your data.
80+ graphs
Get Alerts When Conditions Change
Choose from hundreds of parameters and a dozen sounds to get notified about the environmental changes you care about most.
100+ alarms
The Fastest Weather Data
Experience the fastest reporting weather data on the market right on your console and watch wind gusts and direct changes as they occur. When connected to WeatherLink ios or Android app to watch wind gusts and direct changes as they occur, frome anywhere.
2.5 sec
WIND SPEED
10 sec
RAIN TOTAL
2.5 sec
WIND DIRECTION
10 sec
RAIN RATE