Filtration manifold 3 Positions
Membrane diameters are available in 47mm and 50mm.
Resistant to acid and alkaline.
Suggest with our 15l/min pump vacuum pump
This unit is designed for simultaneous filtration of one to three samples.
Since each of its filter holders has a separate control valve, our standard 15 L/Min Diaphragm pump will support single or multiple simultaneous operations.
The 316 sanitary grade stainless steel is acid and alkali-resistant, corrosion-resistant, and easy to be sterilized at high temperature, which makes the analysis result more stable and reliable.
The aluminum alloy clips are designed to ensure a tight seal without leaking of the system.
During the filtration process, stainless steel vacuum filter is recommended: suitable for flame sterilization the funnel and the filter membrane support net, which can be cooled quickly and can be put into use again soon. Each funnel of the triple filter is equipped with an independent switch, which can filter a single sample or filter multiple samples at the same time, which will save a lot of time when testing a large number of samples.
Advantage of Stainless-Steel Vacuum Filter
The body is designed with an automatic cooling exhaust system to ensure continuous operation for 24 hours.
The material of stainless-steel vacuum filter used for the glass filtering manifold is PTFE
High-efficiency test sample
High temperature is resistant and easy to sterilize on such occasions.
Available OEM services.
The working temperature of the stainless-steel ranges from – 180 – 200 °C

Features
Membrane diameters are available in 47mm and 50mm.
Resistant to acid and alkaline.
Suggest with our 15l/min pump vacuum pump
Long service life
Funnel Size: 300mL
Funnel
Support Screen
Screen Pore Size: 100μm
Connection: Stopper
Flask: 1000mL
Applications
Continuous filtration of one sample.
Microbiological fluids removal and particle analysis
Filtration of biological solutions (proteins)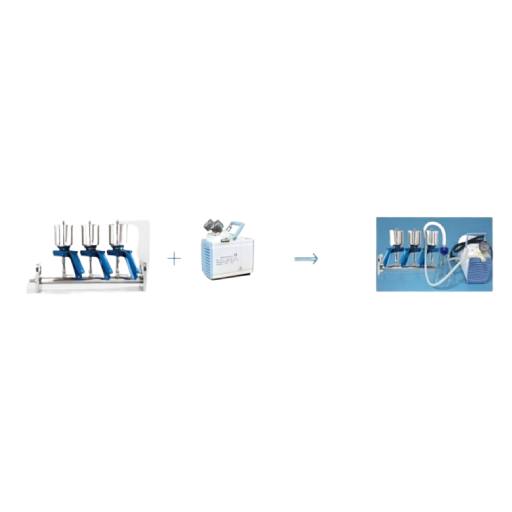 Available in glass or stainless steel, as well as with 3 or 6 positions.