Display unit and wind speed sensor with pre-alarm and alarm. Ideal in conjunction with the Anemo4403 sensor.
Adaptable to a wide range of anemometer sensors.
Pre-alarm (ALARM1) and Alarm (ALARM2).
Designed for panel mounting, such as in electrical cabinets. Especially designed for construction cranes. For installation on DIN RAIL see model WM44-P.
Features
Display
3-digit wind read out.
2 alarm indicator LEDs enabled "AL1 and AL2".
Wind speed in km/h and mph.
Programming in kilometres/hour ( km/h) or in miles/hour (mph).
P01 You can switch between km/h and mph at any time by pressing "Select", a user accessible button.
ALARMS
The alarm is triggered when the programmed value is reached or surpassed and it has includes a delay to prevent false alarms due to short gusts. The alarm is disabled when the wind speed drops below the programmed value and provided this condition persists for a minimum period. When ALARM 2 is enabled ALARM 1 is disabled. When ALARM 2 is enabled, the reading on the display will blink, as a warning.
Alarms can be programmed for the following: trigger values, intermittent or continuous, interlocked (only alarm2). The alarm outputs are through voltage-free relay contacts. Choice between: on contact open or on contact close. Possibility of alarm interlock 2. With the alarm disabled when the unit's power supply is cut off.
ANEMOMETER SENSORS
Suitable for a wide range of sensors: Power supply sensors: 20 V or 10 VDC, from the unit itself. types : 3-wire and 2-wire (see examples on faceplate connections from the unit itself). We RECOMMEND pairing the unit with our Anemo4403 model.
PRESET USER PROGRAM CONFIGURATION.
In addition to user-programmed another, alternative programming can be saved in memory. This can be retrieved any time by going to the program step. P00 option 4.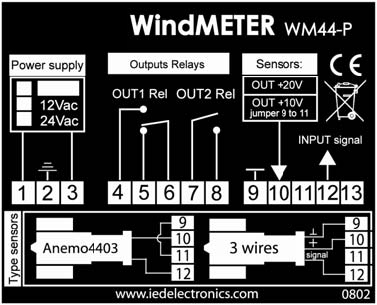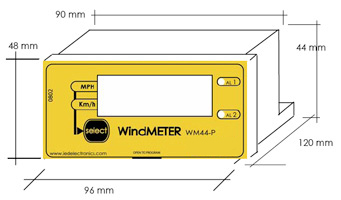 Power supply
230 VAC 50-60 Hz (other voltages, please consult us)
Reading precision
( 100 Hz = 100 km/h )
+/- 1
Power consumption
< 3.5 VA
Maximum speed
999 km/h /620 mph
Input signal
periodic square, sine-wave, triangular.
1 to 750 Hz . 5 to 35 VDC or 4 to 24 VAC.
Relay contacts
4 Amps 250 VAC.

Non-condensing relative humidity in accordance with IEC 68-2-3 and IEC 68-2-27

Input impedance
-For Anemo4403 sensor or namur connection : 1000 Ω -Direct: 10 kΩ

Shocks in accordance with IEC 68-2-27

Types of input:
Compatible sensors
- Sensor mod. onix Anemo4403
- 3-wire sensors (pnp,npn..)
- namur
- Direct outside signal

Vibrations in accordance with IEC 68-2-6

Output power supply
sensors
10 or 20 VDC (+-10%)
IP protection level
IP50
Operating temperature
-20 °C a 70 °C
Approximate weight
0.350 kg approx.