Wind Speed Display
with 2 alarms
Display unit and wind speed sensor with pre-alarm and alarm. Ideal in conjunction with the Anemo4403 sensor.
Adaptable to a wide range of anemometer sensors. Pre-alarm (ALARM1) and Alarm (ALARM2).
Designed for mounting on DIN 46 277 and EN 50 022 rails, such as in electrical cabinets. Especially designed for construction cranes. For installation on "PANEL" see the WM44-P model.


Display
3-digit wind read out.
2 alarm indicator LEDs enabled "AL1 and AL2".
Wind speed in km/h and mph.
Programming in kilometres/hour (km/h) or in miles/hour (mph). P01
You can switch between km/h and mph at any time by pressing "UP". To access this pushbutton, you have to raise the part of the lid where it says "open to program".
Alarms
The alarm is triggered when the programmed value is reached or surpassed and it has includes a delay to prevent false alarms due to short gusts.
The alarm is disabled when the wind speed drops below the programmed value and provided this condition persists for a minimum period.
When ALARM 2 is enabled ALARM 1 is disabled.
When ALARM 2 is enabled, the reading on the display will blink,
as a warning.
Alarms can be programmed for the following: trigger values, intermittent or continuous, interlocked (only alarm2).

The alarm outputs are through voltage-free relay contacts. Choice between: on contact open or on contact close.

Possibility of alarm interlock 2. With the alarm disabled when the unit's power supply is cut off.


Anemometer Sensors
Suitable for a wide range of sensors:
Power supply sensors: 20 V or 10 VDC, from the unit itself.
Types : 3-wire (20 V) and 2-wire (10 V). See wiring of faceplate connections from the unit itself.
We RECOMMEND pairing the unit with our Anemo4403 model.
Preset User Program Configuration
In addition to user-programmed another, alternative programming can be saved in memory. This can be retrieved any time by going to the program step. P00 option 4.
Connections

Dimensions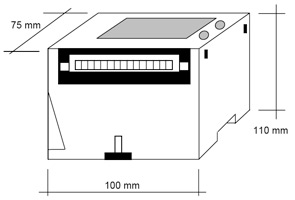 Electrical features

Power supply

230 Vac, 50-60 Hz

Power consumption

<3,5 VA

Inputs

Type of input signal

Square, triangular or sinusoidal
1-750 Hz / 5-35 Vdc o 4-24 Vac

Input impedance

-For connection with Anemo4403 or Namur: 1000 ohm
-Direct: 10 k ohm
Sensors admitted

Anemo4403 V3 sensor
-3 wire sensor
-Namur
-Direct signal (see "type of input signal)
Outputs

Power output for sensors

10 Vdc or 20Vdc +/- 10% 0,5 W

Analogue output (only for panel version)
4-20 mA o 0-10 Vdc

Max. connectable impedance

500 Ohm (4-20mA analogue output)
Analogue output resolution

1000 dots

Analogue output accuracy

1,5%

General features

Dimensions

See drawings

Weight

450 g

Storage temperature

-35 ºC +70 ºC

Working temperature

-20 ºC +70 ºC

IP protection

IP20

EMC

EN 61000-6-2:2001 EN 55022:2001, Class B
Measurements

Accuracy (100Hz=100km/h)

+/- 1km/h

Maximum measurable speed

999 km/h, 999MPH, 99.9 m/s