OHVN31P5L
Floor Scales
Maximum Capacity: 5,000 lb (2,200 kg)
Readability: 1 lb (0.5 kg)
Readability (Certified): 1 lb (0.5 kg)
Economical Painted Steel Floor Scales for Basic Industrial Applications
The VN Series of floor scales is the right choice for your basic dry weighing needs in industrial and commercial applications. Coupled with corresponding ramps, mounting accessories and T31P indicator, the OHAUS VN Series offers a unique combination of value, quality and dependability that your company can rely on.
Applications
Weighing, Parts Counting
Display
Backlit liquid crystal display (LCD)
Operation
AC adapter (included) or rechargeable battery (included)
Communication
Easy access communication port with RS232 interface
Construction
ABS plastic indicator, black painted steel treaded platform, NEMA 4X/IP65 stainless steel junction box with side access, IP67 NTEP alloy steel load cells, two carbon steel eye bolts, four self-swiveling ball-in-cup feet, black painted steel ramps and fixed location foot mounting plate kits (accessories sold separately)
Design Features
125% overload protection
The durable VN is constructed of an epoxy painted steel frame, an ABS T31P indicator, NEMA 4X/IP65 sealed stainless steel junction box and IP67 sealed load cells.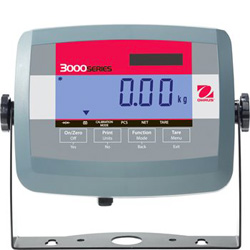 With a rechargeable lead acid battery included with each VN, position the floor scale freely in the workspace without having to be forced to work near an outlet.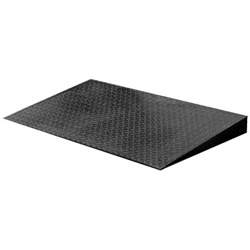 Painted steel ramps are available to be added to any VN platform, which provide bottom support ribs that prevent the platform from bending under heavy loads.

Model
VN31P5000L
VN31P5000X
Maximum Capacity
5,000 lb (2,200 kg)
Readability
1 lb (0.5 kg)
Readability (Certified)
1 lb (0.5 kg)
Platform Size (LxW)
4 ft x 4 ft (1,219 mm x 1,219 mm)
5 ft x 5 ft (1,524 mm x 1,524 mm)
Battery Life
100 Hours with Rechargeable Battery
Communication
RS232 (Included)
Dimensions (HxLxW)
90 mm x 1,219 mm x 1,219 mm
90 mm x 1,524 mm x 1,524 mm
Display
LCD with white LED backlight
Legal for Trade
NTEP Certified
Net Weight
128 kg
190 kg
Platform Construction
Painted Steel Diamond Plate
Power
AC Adapter (Included); Rechargeable Battery (Included)
Tare Range
To capacity by subtraction
Units of Measurement
Gram; Kilogram; Ounce; Pound; Pound:Ounce
Working Environment
14°F – 104°F, 85%RH, non-condensing (-10°C – 40°C, 85%RH, non-condensing)