Détecteur 1 gaz avec attache
Monoxyde de carbone, sulfure d'hydrogène, oxygène, gaz combustible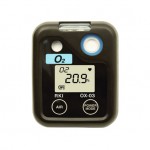 Modèle : OX-03
0-40 % O2
Alligator clip
Alkaline batteries

---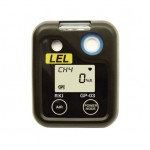 Modèle : GP-03
0-100 % LEL
Alligator clip
Alkaline batteries
---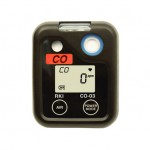 Modèle : CO-03
0-500 ppm CO
Alligator clip
Alkaline batteries
---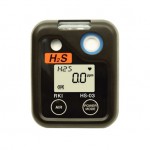 Modèle : HS-03
0-100 ppm H2S
Alligator clip
Alkaline batteries

---
Individuals need personal protection in hazardous areas at all times without adding extra bulky equipment, and the 03 Series can provide that kind of protection at an affordable price.
The GP-03, OX-03, CO-03, and HS-03 models are personal single gas monitors designed for protection from exposure to combustible hydrocarbons, oxygen deficiency, hydrogen sulfide, or carbon monoxide.
The O2, CO, and H2S versions can be operated continuously for at least 3,000 hours on (2) AAA size alkaline batteries. The GP-03 operates for 35 hours on alkaline and 30 hours on rechargeable Ni-MH. The 03 models have 2 preset alarms that are user adjustable. Each version is also equipped with visual, audible, and vibration alarms as standard.
The replacement sensors are inexpensive, easily field replaceable, and are interchangeable with other popular RKI instruments like the GX-2009, GX-2012, and GasWatch 2. Sensors for LEL and O2 have a life expectancy of over 2 years. Sensors for H2S and CO have a life expectancy of over 3 years.
Each 03 Series monitor is impact, dust, and water resistant with an IP-67 rating. 03 Series instruments are safe for use in hazardous locations, classified as intrinsically safe ATEX/IECEx and by CSA approval to U.S. and Canadian standards for Class I, Division 1, Groups A, B, C, and D atmospheres.
Features
Operates 3,000 hours on alkaline (GP-03 operates 35 or 30 hrs on alkaline/Ni-MH)
Pocket size 2.1"(W) x 2.6"(H) x 0.9"(D)
Light weight 2.8 ounces
Impact, dust, and water resistant (IP-67)
Replaceable rubber boot
Data log 5 to 300 hours with adjustable intervals
Audible / visual / vibration alarms
Automatic backlight
Peak Hold, STEL & TWA
Low battery alarm
Intrinsically safe, ATEX, & CSA
3 Year warranty H2S & CO
2 Year warranty LEL & O2
Applications
Hazardous material
Mining
Refineries / petrochemical
Water / wastewater treatment
Pharmaceuticals
Utilities
Chemical plants
Fire services
Model Name
CO-03
HS-03
OX-03
GP-03
Gas Detected
Carbon Monoxide (CO)
Hydrogen Sulfide (H2S)
Oxygen (O2)
Combustible gas
Detection Principle
Electrochemical
Galvanic cell
Catalytic combustion
Detection Range (Increments)
0 – 500 ppm
(1 ppm)
0 – 100 ppm
(0.5 ppm)
0 – 40%vol.
(0.1% vol.)
0 – 100% LEL
(1% LEL increments)
Alarm Set Points
1st 25 ppm
2nd 50 ppm
TWA 25 ppm
STEL 200 ppm
Over 500 ppm
1st 5.0 ppm
2nd 30.0 ppm
TWA 1.0 ppm
STEL 5.0 ppm
Over 100.0 ppm
Low 19.5% vol.
High 23.5% vol.
Over 40.0% vol.
1st 10% LEL
2nd 50% LEL
Over100% LEL
Alarm Types
Gas alarms: 1st and 2nd (user adjustable), OVER alarm, STEL and TWA
Trouble alarms:Sensor connection, low battery circuit failure, and calibration range error
Alarm Methods
Gas alarm: Flashing LED's, intermittent buzzer, flashing gas value, and vibration
Trouble alarm: Flashing LED's, intermittent buzzer, and display of error message
STEL & TWA alarms:Flashing LED's, intermittent buzzer, flashing gas value, and vibration
Gas Sampling
Diffusion
Response Time
T90 in 30 seconds
T90 in 20 seconds (Alarms within 5 seconds when exposed to 12% O2)
T90 in 30 seconds
Accuracy
which ever is greater
± 5% of reading or ± 5 ppm CO
± 5% of reading or ± 2 ppm H2S
± 0.5% O2
± 0.5% of reading or ± 2% LEL
Data Logging
10 second intervals = 5 hours, 5 minute intervals = 150 hours, 10 minute intervals = 300 hours

Instrument records alarms, alarm trends, gas readings, calibration & bump test history, instrument information and settings.

Battery Options
Alkaline dry cell (2-AAA size)
Alkaline dry cell (2-AAA size) Ni-MH battery
Continuous Operation
Alkaline dry cell: more than 3,000 hours (at 25°C, no backlight)
Alkaline: 35 hours
Ni-MH: 30 hours
Safety Rating
ATEX/IECEx approved. CSA classified, "C/US", as intrinsically safe, Class I, Division 1, Groups A, B, C, D
Enclosure
Dust and water resistant with IP-67 rating
Dimensions & Weight
2.1" W x 2.64" H x 0.94" D, (54 x 67 x 24 mm); 2.8 ounces (80 g)
Display
Digital LCD, gas name & concentration, auto backlighting during alarm, operation icon, battery icon
Operating Temp. & Humidity
-4°F ~ 122°F (-20°C ~ 50°C);
Humidity below 90% RH (non-condensing)
Standard Accessories
• Rubber protective boot
• Alkaline batteries
• Alligator clip
• Data logging software
Optional Accessories
• Calibration cap
• Calibration kit
• Charger unit • Wrist strap
• Belt clip • Data logging download cable
• Calibration station (available 2015)
Special Functions
• Manual backlight for LCD (automatically lit during alarm)
• Peak hold, STEL & TWA
Warranty
3 Year warranty*
2 Year warranty
*3 year warranty covers instrument and original sensor. Replacement sensors have a 2 year warranty. Specifications subject to change without notice.