Heavy-duty wind sensor featuring superior mechanical resistance and great flexibility and a quality capable of competing with and even surpassing that of the best plastic and metal sensors on the market.
The design allows for extra electronics to be housed inside to provide additional features. The bearings are made of stainless steel and lubricated with instrument oil.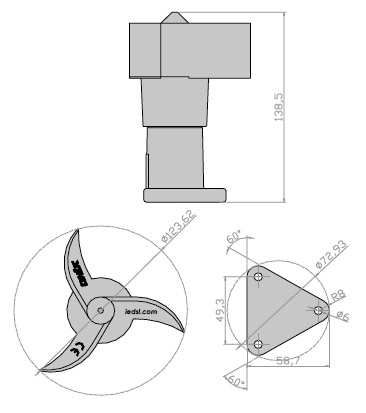 Suitbody>
Capable of housing electronics inside
Superior measuring range, up to 200 km/h
Superb mechanical resistance and high
flexibility against bumps
Linear
Precision better than 1 km/h
Instrument bearings
Introduction
Applications
The Anemo4403 has been designed for any system requiring wind speed data, including tower crane, greenhouse and wind turbine safety applications. A common application consists of connecting the sensor to a tachometer (see our ref. TCA-200R),viewing the wind speed, and programming alarms to be triggered at various speeds, with the option of including an analogue output; or connecting to a Anemometer Alarm for Cranes (see our refs. SAG and VGT) or to a PLC or datalogger.
Operation
INPUTS / OUTPUTS
Supports wind speeds up to 200 km/h. The output is a voltage-free contact with a series resistance which opens and closes at a frequency that is directly proportional to the wind speed (see graph).
As an option, it can be manufactured with a Hall cell.
WIND SPEED RATIO – OUTPUT
The ratio is the result of multiplying wind speed in km/h times 1.05 to obtain the output in Hertz (pulses per second). With a wind speed of 0 km/h the output is 0 Hz. With a wind speed of 100 km/h the output is 105 Hz.
Technical specifications
Power supply : 5 to 15 VDC
Linearity : ± 2%.
Maximum intens. : 15 mA
IP level : IP 65
Range : 2-200 km/h
Storage temp. : -40 °C : +100 °C
Accurancy : ± 2%.
Working temp. w/o ice : -20 °C : +80 °C
Repeatability : 0.5%
Weight : 154 g
Weight with 20 m cable : 1,265 g