HA900MPS24
Échantillonneur portatif à 24 bouteilles
Précipitations, niveau d'eau, débit, vitesse, température, pH ou ORP
12 canaux
116,000 entrées
The Hach Sigma 900MAX Portable Sampler in five key concepts: accuracy, simplicity, flexibility, reliability, and economy.
Easy, menu-type programming uses a large backlit display. Use the Hach Sigma 900MAX sampler to monitor and log rainfall, level, flow, velocity, temperature, pH or ORP, with 12 data logging channels. Depending on model, up to seven external analog signals can also be logged. As many as 116,000 readings may be recorded.
Unique Constant Time / Variable Volume Sampling
The patented Constant Time/Variable Volume sampling method varies sample size in proportion to flow rate. This feature takes regularly timed, proportional samples depending on the flow rate, ensuring that representative samples are taken at even intervals throughout the sampling period.
Field Convertible for Compact or Discrete Sampling
Weighing only 28 pounds (12.7 kg), the 900MAX Portable Sampler is designed for accuracy and convenience. Quickly switch between composite and discrete sampling in the field. Configurable for single- or multiple-bottle applications, it is specifically designed for use in 18-inch manholes.
Reliable Peristaltic Pump Technology
The 900MAX sampler uses a positive displacement peristaltic pump made of corrosion-resistant Delrin® material. While other peristaltic pumps fail to meet EPA1 criteria for representative intake velocity, Hach samplers produce a 3.3 ft./s velocity at3 ft. lift in a 3/8-in. ID intake line.
Advanced Liquid Detection Techniques
The non-contact ultrasonic liquid sensing system guarantees volume accuracy and repeatability. Reduce cross-contamination with a line rinse; the intake is preconditioned with the source liquid prior to collection. In the event that a plugged intake prevents collection, the unit detects the failed attempt and immediately repeats the cycle starting with a high-pressure purge.
Customizable Set Points
Collect samples in response to changing levels of selected parameters—set high and low trip points to immediately collect when a parameter exceeds preset limits.
Easy Data Management Software
Powerful, user-friendly software makes it easy to analyze the data and produce presentation-quality reports for any time period, or generate customized reports integrating sample collections with a variety of parameters.
Dimensions
The Hach Sigma 900MAX Portable Sampler is designed for indoor or outdoor use. No secondary enclosure is required when operated within the specified temperature range. The sampler consists of three main sections—the top cover, the center control system, and the bottle/base section held together by stainless steel latches which serve as the connection point for the optional suspension harness. The lockable top cover protects the controller from extreme weather and unauthorized use.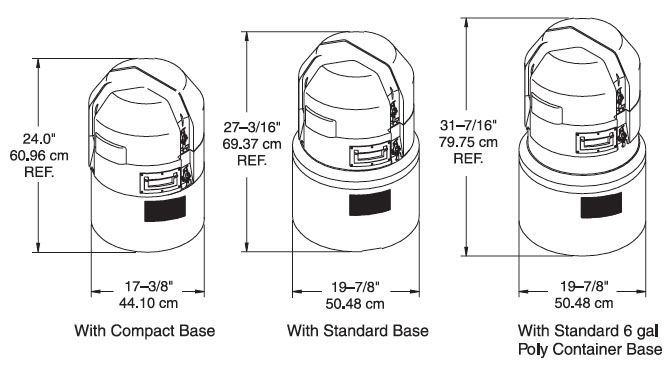 Sigma 900MAX Portable Sampler Bundles
6249300
900MAX Portable pH Bundle, with 3 gallon bottle
6249400
900MAX Portable pH Bundle, with 6 gallon bottle
6249500
900MAX Portable pH Bundle, with (8) 2.3 liter bottles
6249600
900MAX Portable pH Bundle, with (24) 575 liter bottles
Controller and Base Options
8930
Sigma 900MAX Portable Sampler, with controller, center sections, and top cover
(complete sampler requires adding a base option)
8975
Compact Insulated Base
8976
Standard Insulated Base
8958
12 Bottle Base
8561
Composite Insulated Base
Bottle Options
6559
2.5 Gallon Glass, with Teflon-lined cap
1918
3 Gallon Polyethylene, with cap
6494
6 Gallon Polyethylene, with cap
1502
1502 Container Support
8996
Retainer/Full Container Shut-off
737
Set of (24) 1 Liter Polyethylene, with caps
1369
Set of (24) 575 mL Polyethylene, with caps
2348
Set of (8) 950 mL Glass, with Teflon lined caps
2217
Set of (4) 1 Gallon Polyethylene, with caps
2216
Set of (4) 1 Gallon Glass, with Teflon lined caps
2215
Set of (2) 1 Gallon Polyethylene, with caps
2214
Set of (2) 1 Gallon Glass, with Teflon lined caps
Bottle Retainers (for multiple bottles)
2620
Retainer for (12) 950 mL Glass Bottles
2189
Retainer for (24) 350 mL Glass Bottles
1422
Retainer for (8) Glass, (8) Poly, (24) 575 mL Poly, and (24) 1 Liter Poly Bottles
2347
Retainer for (8) 950 mL Glass Bottles
2190
Retainer for 1 Gallon Glass and 1 Gallon Polyethylene Bottles
Distributors
8582
Distributor with Arm for 24 Bottle, Standard Case and 12 Bottle Base
8580
Distributor with Arm for 24 Bottle Compact Base
8584
Distributor with Arm for 2, 4 and 8 Bottle Standard Base and 8 Bottle Compact Base
8583
Distributor Arm only for 24 Bottle Standard Base and 12 Bottle Base, requires distributor assembly
8581
Distributor Arm for 24 Bottle with Compact Base, requires distributor assembly
8585
Distributor Arm for 2, 4 and 8 Bottle with Standard Base, requires distributor assembly
Intake Tubing and Strainers
922
25 ft. Teflon Lined Polyethylene Tubing, 3/8-in. ID (requires Prod. No. 2186 Connection Kit)
2186
Connector Kit, for Teflon lined polyethylene tubing 920 25 ft. Vinyl Intake Tubing, 3/8-in ID
2070
Strainer, all 316 stainless steel
2071
Strainer, for shallow depth applications, all 316 stainless steel
4652
Strainer, high velocity and shallow depth
Pump Tubing
460015
Pump Tubing, 15 ft.
8964
Pump Tube Insert
Integral Water Quality Parameters
8793
Integral pH-Temp/ORP Option, factory installed
3328
pH-Temperature Probe (grounded), with 25 ft. cable
5172
pH-Temperature Probe; grounded, with 50 ft. cable
2080
ORP Probe; with 25 ft. cable
5174
ORP Probe; with 50 ft. cable
4-20 mA Input
8795
Three (3) Analog Input Data Logging Channels
4-20 mA Output
8797
First 4-20 mA Output
8798
Second 4-20 mA Output
General
Sampler Housing

Impact resistant ABS plastic, 3-section construction
Double-walled base with 1 in. (2.54 cm) insulation, direct ice contact with bottles

Controller Housing
High-Impact, injection-molded ABS; submersible, watertight, dust-tight,
corrosion, and ice resistant; NEMA 4X, 6
Temperature

General Use: 0 to 49 °C (32 to 120°F)
Liquid Crystal Display (LCD): -10 to 70°C (-14 to 158°F)
Storage: -40 to 80°C (-40 to 176°F)

Power Requirements

12 Vdc supplied by optional a/c power converter or battery.
Average current with pump running: 2.25 amps dc
Certification: CSA, UL, CE

ac Power Backup
(Pump Controller Only)

Rechargeable 6 amp-hour gel lead acid battery takes over automatically with ac line power failure
Integral trickle charger maintains battery as full charge (factory installed option)

Solar Power
Panel/Backup
12 Vdc regulated supply voltage, 5 watts minimum; optional 12 Vdc lead-acid or gel-electrolyte battery backup
Internal Battery
Two 1.5 V dc "C" cells; maintains program logic and real time clock for five years
Graphics Display

8 line x 40 character alphanumeric, back-lit liquid-crystal graphics display
Self prompting/menu driven program

User Interface
21 key membrane switch keypad with 4 multiple function soft keys
Data Logging

Records program start time and date, sample volume collected, sample volume remaining. Stores up to 400 sample collection times/dates, all program entries, operational status.
Up to 200 events logged, including alarm conditions, program run/stop events, etc.

Set Point
Sample Trigger
When equipped with integral flow meter or pH/temperature/ORP meter options, sampling can be triggered by an upset condition when fieldselectable limits are exceeded.
Sampling Modes
Multiple bottle time, multiple bottle flow, composite time, composite flow, composite multiple bottle time, composite multiple bottle flow, flow with time override, variable interval, start/stop, and level actuation
Overload Protection
5 amp dc line fuse for pump; 5 amp dc line fuse for ac power converter
Diagnostics
Tests keypad, RAM, ROM, pump, distributor, liquid sensor, and velocity signal
Program Languages
Czech, Danish, Dutch, English, French, German, Spanish, Swedish
Program Lock
Access code protection prevents tampering
Dimensions

Standard and 12 Bottle Base: 50.5 cm x 69.4 cm (10.9 x 27.3 in.)
Compact Base: 44.1 x 61 cm (17.4 x 24 in.)
Composite Base: 50.28 x 79.75 cm (19.8 x 31.4 in.)

Weight

Standard and 12 bottle base: 15 kg (35.6 lb.) with (24) 1-L polyethylene bottles 14.8 kg (32.6 lb.) with 3-gal polyethylene container
Compact Base: 12.2 kg (27 lb.) with (24) 575-mL polyethylene bottles 12.9 kg (28.3 lb.) with 3-gal polyethylene container
Composite Base: 15 kg (36 lb.) with (12) 950-mL glass bottles

Communications
EPROM Flash Memory
Via RS232; permits embedded software upgrades in the field; requires ac power
Serial Interface
RS-232 compatible; allows on-site collection of stored data
Program Delay

1 to 9,999 minutes or external flow pulses in one unit increments
Sampler start time/date and time/day
Sampler start on external 12 Volt or contact closure input

Sample Bottle Capacity
Standard Base Capacity

(24) 1 L polyethylene and/or 350-mL glass bottles
(8) 2.3 L polyethylene and/o 1.9 L glass bottles
(4) 3.8 L (1 gal) polyethylene and/or
(4) 3.8 L (1 gal) glass bottles
(2) 3.8 L (1 gal) polyethylene and/or
(2) 3.8 L (1 gal) glass bottles
20.8 L (5.5 gal) polyethylene composite container or (1) 15.1 L (4 gal) polyethylene composite container or (1) 20 L (6 gal) polyethylene or (1) 10 L (3 gal) polyethylene or (1) 9.5 L (2.5 gal) glass

Compact Base Capacity

(24) 575 mL polyethylene bottles
(8) 950 mL glass bottles
11.4 L (3 gal) polyethylene bottle
9.5 L (2.5 gal) glass bottle

12 Bottle Base Capacity

(12) 950 mL glass bottles
10 L (3 gal) polyethylene bottle
9.5 L (2.5 gal) glass bottle

Composite Base
Capacity
22.7 L (6 gal) polyethylene bottle
Ice Capacity

Compact Base: 3.9 kg (8.5 lb.) with (24) 575 mL PE bottles
Standard Base: 14.5 kg (32 lb.) with (24) 350 mL glass bottles

Sampling Features
Multiple Programs
Stores up to five sampling programs
Cascade
Allows use of two samplers in combination; at the completion of its program, the first sampler initiates the second
Upset Sampling
When equipped with integral flow meter or pH/temperature/ORP monitoring options, or triggered from an external control device, sampling can be started in an upset condition when field-selectable limits are exceeded. Concurrent with normal sampling routine, sample liquid is deposited in designated "Trouble Bottle(s)"
Status Display
Alerts operator to low main battery, low memory battery, plugged intake, jammed distributor arm, sample collected, and purge failure
Automatic Shutdown

Multiple Bottle Mode: After complete revolution of distributor arm
(unless Continuous Mode is selected)
Composite Mode: After preset number of samples have been delivered to composite container, from 1 to 999 samples, or upon full container.

Sample Volume
Programmed in one mL increments from 10 to 9,999 mL
Sample Volume
Repeatability
±5% typical
Interval Between Samples
Selectable in single increments from 1 to 9,999 flow pulses (momentary contact closure 25 ms or 5 to 12 Vdc pulse; 4-20 mA interface optional), or 1 to 9,999 minutes in one minute increments
Multiplex (Multiple Bottle Mode)
Programming allows multiple samples per bottle and/or multiple bottles per sample collection
Sample Pump and Strainer
Sample Pump
High-speed peristaltic, dual roller, with 0.95 ID x 0.16 OD cm 3/8 ID x 5/8 in. OD) pump tube
Pump Body
Impact/corrosion resistant, glass reinforced Delrin®
Vertical Lift
8.23 m (27 ft.) maximum
Note: Remote Pump Option recommended for lifts from 6.7 to 10.7 m (22 to 35 ft.)
Sample Transport Velocity
0.61 cm/s (2 ft./s) minimum, at 4.6 m (15 ft.) vertical lift in a 0.95 cm (3/8-in.) ID intake tube
Pump Flow Rate
60 mL/s at 0.91 m (3 ft.) vertical lift in a 0.95 cm (3/8-in.) ID intake line
Liquid Sensor
Non-wetted, non-contact, ultrasonic
Intake Purge
Air purged automatically before and after each sample; duration automatically compensates for varying intake line lengths
Pump/Controller Housing
High impact injection molded ABS; submersible, watertight, dust tight, corrosion and ice resistant; NEMA 4X, 6
Internal Clock
Indicates real time and date; 0.007% time base accuracy
Manual Sample
Initiates a sample collection independent of program in progress
Intake Rinse
Intake line automatically rinsed with source liquid prior to each sample, from 1 to 3 rinses
Intake Retries
Sample collection cycle automatically repeated from 1 to 3 times if sample not obtained on initial attempt
Intake Tubing
9.5 mm (3/8 in.) ID vinyl or 9.5 mm (3/8 in.) ID Teflon® lined polyethylene
Intake Strainers
Choice of Teflon® and 316 stainless steel construction, or all 316 stainless steel in standard size, high velocity, and low profile for shallow depth applications
Factory-Installed Options
pH/TEMPERATURE/ORP METER
Control/Logging
Field selectable to log pH/temperature or ORP independent of sample operation or to control sample collection in response to exceeding setpoints
pH/Temperature Sensor

Temperature compensated; impact resistant ABS plastic body
Combination electrode with porous Teflon® junction

Measurement Range

pH: 2 to 12 pH
Temperature: -10 to 105°C (-14 to 221°F)

Operating Temperature
-18 to 80°C (0 to 176°F)
Dimensions
1.9 x 15.2 cm (0.75 x 6 in.) with 1.9 cm (0.75 in.) MPT cable end
SUBMERGED PRESSURE TRANSDUCER
Material
Epoxy body with stainless steel diaphragm
Cable

Polyurethane sensor cable with air vent
Length: 7.6 m (25 ft.) standard; 20 m (15.24 ft.) optional

Sensor Dimensions
2 x 3.8 x 12.7 cm (0.8 x 1.5 x 5 in.)
Maximum Range
2.5 psi, 0 to 1.75 mm (0 to 5.76 ft.)
Maximum Allowable Level
3x over pressure
Operating Temperature
0 to 71°C (32 to 160°F)
Compensated Temperature Range
0 to 30°C (32 to 86°F)
Air Intake
Atmospheric pressure reference is desiccant protected
Factory-Installed Options (continued)
SUBMERGED DEPTH/VELOCITY PROBE
Velocity Measurement
Range
-1.52 to 6.10 m/s (-5 to 20 ft./s)
Zero Stability
0.015 m/s (<0.05 ft./s)
Accuracy
±2% of reading
Operating Temperature
-18 to 60°C (0 to 140°F)
Typical Depth
2 cm (0.8 in.) minimum for velocity
Method
Doppler ultrasonic
Transducer Type
Twin 1 MHz piezoelectric crystals
Level Measurement
Range

Standard: 0 to 3 m (0 to 10 ft.)
Extended: 0 to 9 m (0 to 30 ft.)

Accuracy

±0.16% full scale ±1.5% of reading at constant temp (±2.5 °C)
±0.20% full scale ±1.75% of reading from 0 to 30 °C (32 to 86 °F)
±0.25% full scale ±2.1% of reading from 0 to 70 °C (32 to 160 °F)

Allowable Level

Standard: 10.5 m (34.5 ft.) maximum
Extended: 31.5 m (103.5 ft.) maximum

Air Intake
Atmospheric pressure reference is desiccant protected
Method
Pressure transducer with stainless steel diaphragm
General
Material
Noryl® plastic outer shell with epoxy potting
Power Consumption
~1.2 W at 12 Vdc
Cable
Urethane sensor cable with air vent
Connector
Hard anodized (satisfies Military Spec 5015)
Cable Length

Standard: 9, 15, 23, and 30.5 m (30, 50, 75 and 100 ft.)
Custom: greater than 30.5 m (100 ft.)
Maximum: 76 m (250 ft.)

Cable Diameter
0.91 cm (0.36 in.)
Sensor Dimensions
2.3 x 3.8 x 13.5 cm (0.9 x 1.5 x 5.3 in.)