Palmer Bowlus Flumes
Geneq - EFPALBOW06 - EFPALBOW08
The Palmer Bowlus metering flume has been widely used since 1937 for measuring water and wastewater in open channels or pipelines that are not under pressure.
Some of its most important characteristics include measurement accuracy, low head loss, minimum flow restriction and ease of installation in pipelines.
The Palmer Bowlus is normally installed in a "U" shaped channel fed by a pipeline such as storm drains and sewers. This convenient flume requires little redesign or special modification of circular conduits for installation.
Accuracy
The accuracy of the Palmer Bowlus flumes is comparable to that of Parshall or other types of Venturi flumes. Experiments indicate that within the normal range of flows (from under 10% to 90% of flume capacity),measurement accuracy is usually within +/- 3% of flow rate.
Options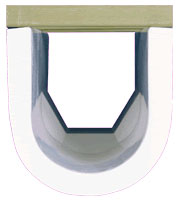 Low Flow Flumes
Low Flow flumes are a proprietary flume, unique to Accura-FloTM. The "Low Flow" is a variation of the Palmer Bowlus flume. It was developed to give improved resolution of low flow in circular conduits.