Description
The PICO-150 is a precision wafering saw for sectioning delicate specimens ranging from fish bones to microelectronic components. It is an ideal saw for the metallographic laboratory. The PICO-150 has the ability to cut at speeds ranging from 100 to 1500 rpm, with loads ranging from 0 up to 1000 grams.
 
The PICO-150 is very robust and durable precision saw with its cast aluminum alloy and stainless steel construction. The PICO-150 can utilizes diamond wafering blades ranging from 3, 4 and 5-inch
diameter (requires additional plastic coolant/lubricant reservoir), up to 6 and 7- inch diameter blades.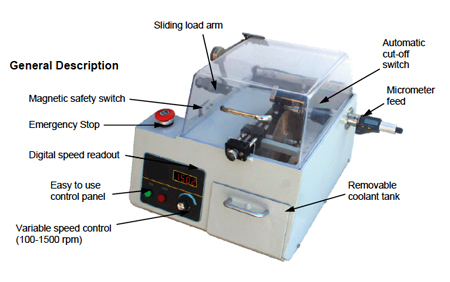 Features

Motor feedback
The PICO-150 is equipped with a 80 W motor that has a feedback loop for maintaining the cutting velocity, even under higher loads and increased drag.
In addition, the circuit board has an overload protection feedback which will stop the motor if the blade becomes jammed or pulls too many amps.
 
Easy to use
The PICO-150 is an easy-to-use precision cutter with simple controls. Simply align the sample and start the cut. The variable speed motor can easily be adjusted by quickly turning the knob on the front panel. Following completion of the cut, the motor will stop and activate a audible buzzer.

Multi-purpose machine
The PICO-150 saw is very versatile precision cutter. It can be used as a standard precision saw or it can be used as a table top saw for cutting larger samples such as printed circuit boards.
Specifications
Electrical specifications:
110V/220V single-phase
Motor power:
80 W - 50/60 Hz
Cut-off wheels:
3, 4 and 5-inch diameter with plastic bowl or 6 and 7-inch without plastic bowl
Wheel arbor:
0.5 inch (12.5 mm) diameter
Speed:
100-1500 rpm
Load:
0-1000 grams
Weight:
Approx. 60 lbs (27 kg)
Dimensions (WxHxD):
Approx. 16" x 16" x 13" (405 mm x 405 mm x 330 mm)
Micrometer feed:
0-1 inch (0-25 mm)
Working temperature:
32° - 100°F (0 - 40°C)
Shipping temperature:
32° - 100°F (0 - 40°C)
Storage temperature:
32° - 100°F (0 - 40°C)
Coolant tank (included):
1/2 gallon (1.9 liters)
Specimen Vises and Attachments
Universal single saddle chuck
P150-702
Double sided saddle chuck
P150-703
Irregular shaped specimen vise
P150-706
Round and 1.25-inch mounted specimens
P150-707
Vise for adhering specimens
P150-709
Specimen teardrop holder for 0.6-1.6-in
(18-40 mm) diameter
P150-710
Fastener vise for longitudianl sectioning
P150-711
Dressing unit
P150-701
Cutting table attachment for large samples
P150-601
Wafering Blades (1/2-inch, 12.5 mm arbor)
Description
3-inch
4-inch
5-inch
6-inch
7-inch
Fine grit / low conc. Diamond
WB-0030LC
WB-0040LC
WB-0050LC
WB-0060LC
n.a.
Medium grit / low conc. Diamond
WB-0035LC
WB-0045LC
WB-0055LC
WB-0065LC
WB-0065LC
Medium grit / high conc. Diamond
WB-0035HC
WB-0045HC
WB-0055HC
WB-0065HC
WB-0065HC
CBN (Cubic Boron Carbide)
WCBN-0035
WCBN-0045
WCBN-0055
WCBN-0065
n.a.
Electroplated Diamond
n.a.
WB-0040EPD
WB-0050EPD
WB-0060EPD
n.a.
Abrasive Blade
n.a.
n.a.
n.a.
MAX-C150
MAC-D150
MAX-7000S
Cutting Fluids
Description
Catalog Number
DIACUT Dressing Sticks (1/2" x 1/2" x 4 1/2")
DRES-0010
DIACUT water-based cutting fluid (16 oz)
WL-3000-16
DIACUT water-based cutting fluid (32 oz)
WL-3000-32

DIACUT oil-based cutting fluid (16 oz)

OL-3000-16
DIACUT oil-based cutting fluid (32 oz)
OL-3000-32