Network Base Station
TandD - RTR-500NW - RTR-500AW
For Remote Management Via Network
Built-in wireless/wired LAN communication capabilities
Used with all RTR-500 Data Loggers
These models are network compatible base station with built-in wireless/wired LAN communication capabilities.
Select from the RTR-500NW for a wired LAN and the RTR-500AW for a wireless LAN connection. They collect data from nearby data loggers via wireless radio communication and then automatically send it via LAN to the set FTP server or e-mail. It is also compatible with T&D WebStorage Service making it easy to collect data and monitor readings without having to setup your own recipient server.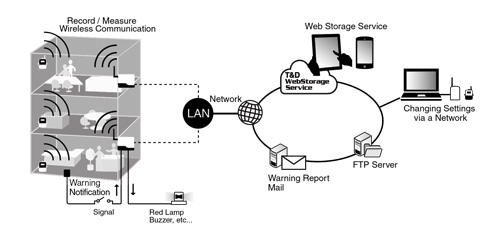 Monitor and Auto-Send Data via LAN
The system is designed to allow for the automatic sending of recorded data to an e-mail or FTP server without the need for a PC. It is also possible to monitor data on a closed network.
Check and Share Data via Cloud
These models are compatible with our free T&D WebStorage Service, making it easy to monitor data from any web browser on PC or mobile device. This also makes it easy to share data to various locations across any distance.
Warning Monitoring Function
Upon a warning e-mail reports can be automatically sent and/or by connecting a buzzer or lamp to the contact output you can set up an on-site alarm.
Extension Possible for Wireless Communication
The communication range between logger and base is about 150 meters (500 ft), but this can be easily extended by adding a repeater unit.
Various Warning Settings
Warning Monitoring settings can be made for upper and lower limits, sensor error, logger battery level, communication error, and contact input.
Register up to 100 Data Loggers
It is possible to manage up to 100 separate data loggers (remote units) from one RTR-500NWAW. And for easy management you can create up to 10 groups and up to 10 repeaterscan be added to each group.
* For RTR-574 and RTR-576, registration of one unit will be counted as two units.
Add Remote Units and Change Settings via the Network
If, after having made initial settings, you wish to add a new Remote Unit or change the registration info of a Remote Unit, it can be done easily over the network.
* RTR-500 must be purchased separately.
Functionality
Network Base Station
Comm Interfaces
USB, Optical, Short Range Wireless
Warning Notifications
External Contact Output, E-mail, Software/Browser, LED
Power
AC Adaptor
Operating Environment
Temperature: -10 to 60°C
Humidity: 90 %RH or less (no condensation)
Dimensions
H:83mm × W:102mm × D:28mm
Waterproof Capacity
None
Accessories
Antenna, USB Mini-B Cable, LAN Cable (only for RTR-500NW), AC Adaptor, etc.