Computer Interface
for Vantage Pro, Vantage Pro2, Vantage Vue and Weather Envoy
Post your weather data directly to the Internet without a PC—WeatherLinkIP Computer Interface does all the work for you.
Simply plug the data logger into the back of your console or Weather Envoy and connect the cable to your cable/DSL router
Pro2
Within minutes, you'll be able to see your weather data live on the Internet. WeatherLinkIP Computer Interface also lets you:
Automatically upload data to third-party weather sites including CWOP, the GLOBE Program.
Get e-mail alerts for current weather or alarm conditions.
Download the data to your PC for all the powerful charting, graphing, and analysis as our standard WeatherLink. With Extra User License Kits, you can even download the data independently to multiple PCs—ideal for schools, agriculture, scientific fieldwork, and remote locations.
WeatherLinkIP Computer Interface is "plug-and-play," when used with Weatherlink.com. Simple configuration steps are required to upload to third-party weather sites or set e-mail alert conditions.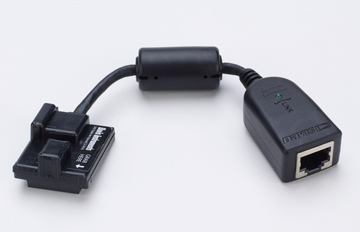 WeatherLink Software Features
Displays the current weather station data in a real-time "bulletin" on the computer.
Allows you to set and clear data in the weather station console (time and date, highs and lows, alarm thresholds, calibration numbers, etc.) from the computer.
Graphs archived weather data on an hourly, daily, weekly, monthly, or yearly basis.
Generates Weather Watcher reports in the National Climatic Data Center (NOAA) format.
Collects data from multiple weather stations on the same computer.
Includes support for GLOBE, an international weather-related science program for students from elementary through high school. Visit www.globe.gov for more information.
APRS data protocol allows volunteers in the Citizen Weather Observer Program (CWOP) to send realtime weather data to the National Weather Service. CWOP is data used for weather education and research projects. Visit www.wxqa.com for more information.
Gives you multiple options for connecting to your WeatherLinkIP Computer Interface data logger.
| | |
| --- | --- |
| CAT. NO. | DESCRIPTION |
| DA6555-000 | WeatherLinkIP Computer Interface for Vantage Pro, Vantage Pro2, Vantage Vue and Weather Envoy |
WeatherLinkIP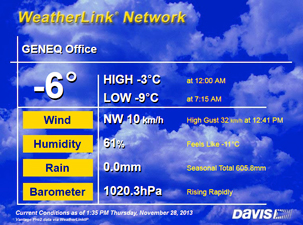 An exemple of our Davis WeatherLink Weather Media on-line. Click Here