ATP Surface Sanitation Monitoring System
Collect, analyze and report data from multiple quality indicators
Can detect down to 0.1 femtomoles of ATP
0.57 lbs., 7 x 18. x 3 cm

EnSURE is a quality monitoring system that uses one instrument platform to collect, analyze, and report data from multiple quality indicators.
Using new state-of-the-art technology and patented designs, the EnSURE system is a simple-to-use, flexible, and accurate quality monitoring system.
Run multiple tests on one system.
The EnSURE monitoring system is designed to be used for multiple quality and food safety tests. Users can use the system for ATP hygiene monitoring or have an expanded program that incorporates rapid microorganism tests for environmental monitoring and finished product testing. Additional tests for pasteurization and cooking proficiency are also available.
Here is a current list of tests that can be run on the EnSURE system: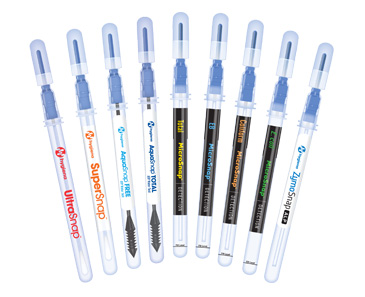 ATP Tests
surfaces

High Sensitivity ATP/Allergen Prevention
Water
Indicator Organisms
Total Viable Count
Enterobacteriaceae
Coliform
E. coli
Process Efficiency Tests
Acid Phosphatase
Alkaline Phosphatase
Better technology in a smaller box
EnSURE uses a state-of-the-art Photodiode sensor technology that provides superior sensitivity and stability over bulky Photomultiplier Tube (PMT) sensors. This tiny sensor allows Hygiena devices to be smaller, lighter, more durable, and longer lasting than systems using a large, fragile PMT sensor.
Minimal size, maximum durability
The EnSURE is designed for convenient, single-hand use to make using the system and navigating the menus easy for every user. Don't let the petite shape fool you - EnSURE makes no compromises when it comes to durability. The rugged outer shell and splash-proof keypad keep EnSURE safe in the harshest environments. For extra protection, every system comes with a complimentary carrying case with a shoulder strap for hands-free transportation to test locations in your facility.
Width: 7.6 cm
Height: 17.8 cm
Depth: 3 cm
Weight: 9.1 oz
Proven performance
Hygiena ATP monitoring systems have been used by food and beverage processors for over 10 years. Not only are they designed to last, but more importantly, to perform better than all other systems on the market.
Superior Performance
Cost-Effective

Optimal Design
The dashboard shows you everything in a glance
The first thing you see in SureTrend is the dashboard. This can be configured to display all the metrics you care about so you'll know the status of plant cleanliness in seconds. The dashboard displays Pass/Caution/Fail results and failed test results by location or plan.
Verify calibration at your convenience
With built in sensor checks and a Calibration Control Kit sold separately, verifying calibration is literally effortless. Simply turn on the self-check feature and every time the system is powered on, calibration will be confirmed. If your HACCP or GMP program calls for additional calibration assurance, use the Calibration Control Kit to verify the system is in working order at any time. With the internal self-check and the calibration kit, you'll always be confident the system is within specifications. In addition, you'll avoid costly and inconvenient yearly calibration charges that other manufacturers require.
Benefits
One instrument platform to collect, analyze and report data from multiple quality indicators
Real time ATP results and same shift microbial indicator results make EnSURE a helpful troubleshooting system
Assists in developing and improving process and risk assessment programs (ie. HACCP & GMPs)
No scheduled yearly maintenance necessary
Available Calibration Control Kit for in-house confirmation of calibration
Complimentary SureTrend Software
Measures ATP, High Sensitivity ATP/Allergen Prevention, TVC, Enterobacteriaceae, Coliform, E. coli, ALP, and ACP test devices

Sensitive

Can detect down to 0.1 femtomoles of ATP

Advanced photodiode technology

Internal solid state detector is not affected by drops or shakes


Storage

100 programmable test plans
200 programmable user IDs
251 programmable locations per test plan
5,000 programmable test locations

Small, lightweight, handheld instrument (0.57 lbs., 7 x 18. x 3 cm)

Quick-test mode enables ad-hoc testing

Large screen with back-light and optional BOLD text

Powered by 2 x AA batteries for several months of uninterrupted use

Connects to software via USB

Removable read chamber design allows for easy cleaning

Durable outside shell and sealed keypad to protect against splashes and wear

Original one year warranty includes parts and labor (additional coverage available)