Ultrasonic Hardness Tester
The PHASE II ultrasonic/dynamic portable hardness testers are capable of measuring the surface hardness of a broad variety of metals on flat, round, thin or large surfaces. Unlike the standard Dynamic hardness testers, these "state-of-the-art" portable hardness testers incorporate "Ultrasonic UCI" technology, which enables the hardness testing of very thin and small workpieces, which otherwise could not be tested accurately using a portable device. Non-destructive in it's function, these hardness testers allow for the testing of highly sensitive or finished parts that previously could not be tested in an operational setting. The non-destructive (ndt) feature of these hardness testers allow the operator to accurately test parts without causing physical or structural damage that would normally lead to disposal or refinish of operators part. The Phase II MET series of portable hardness testers offers a model that include a dynamic probe for easy, quick hardness testing of parts with a mass greater than 5kg.

UCI Hardness Testing Method:
A hardness testing method based on the measurement of the frequency shift of a resonating rod caused by the essentially elastic nature of the finite area of contact between the indenter and the test piece during the penetration. Described as a hardness testing practice using a calibrated instrument by pressing a resonating rod with a Vickers style Diamond indentor with a fixed force against the surface of the part to be tested.

Functions:
Easy To Read Menu Operation
Large LCD Display w/ Back Light
USB Interface
Automatic Conversions to: Brinell, Rockwell C, Rockwell B, Vickers and Leeb
Automatic Mean Value
Data Archive Capacity
Standard Accessories:
Base Instrument
10N (1kgf) Hand-Held Probe - U1 model
Calibrated Test Blocks:
Model MET-U1A 2pc HRC Test Blocks
USB Ouput Cable
Custom Carry Case
Battery Charger
Operation Manual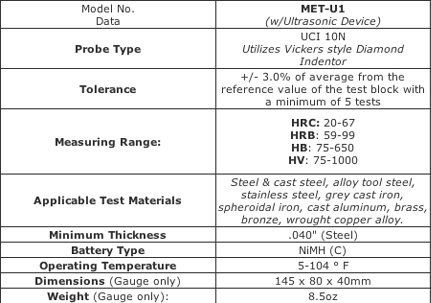 Technical Data for UCI Probe Indentor: